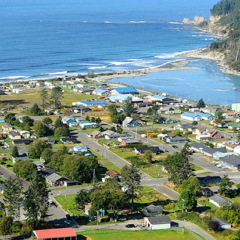 There's a place on the Washington coast called Taholah. I've been there a few times on my bicycle, riding up Highway 109 from Ocean Shores. The scenery is staggering. There's huge trees everywhere, a river on the north end of town and an ocean to the west.
Also staggering is the obvious poverty. There's run-down homes, stray dogs and abandoned cars. I didn't see any stores or restaurants.
Taholah looks like a tough place to find work.
It also looks exactly like what you'd expect to see if you went there after reading the data. Per capita income is half that of the rest of the state. Housing values are about a third. About 5% of their 11th graders met standard in math; about a fourth met standard in ELA.
Twenty-three percent of their seniors graduate on time.
The other thing you should know about Taholah is that their population is 80% Native American. It's the headquarters for the Quinault Reservation.
One more thing. According to the Seattle Times, 22.5% of their teachers are "Emergency Teachers," teachers who are not certified and may or may not have a college degree. School districts are only allowed to hire emergency teachers when they're unable to find anyone qualified to teach. According to my math, that means four of the seventeen teachers in Taholah are emergency status.
My district, on the other hand, attracts dozens of qualified applicants for every open position. Two summers ago I spent most of a sunny weekend wading through application packets, meeting with the rest of the hiring committee, and interviewing the five finalists before hiring the competent teacher who works next door.
That's the thing about this teacher shortage. It's like a large, complicated lake in the process of drying up. The shallow inlets are the first to empty out, while the deep water in the middle is safe for a long time. Taholah, with its poverty and lack of amenities will suffer the teacher shortage a lot sooner and a lot more severely than Edmonds, where I work.
So what do we do about it? One answer is to loosen the requirements to teach in Washington, a place well-known for having tough hurdles for prospective teachers, particularly those coming from out-of-state.
But is that really what we want? Do we really want to make it easier for people to teach in this state? Those requirements, after all, weren't written out of spite; they were written to ensure that the kids in Taholah, as well as Edmonds, have a competent, qualified teacher in front of them.
We've got a problem. We've got a teacher shortage that hits small, rural – and frequently poor – communities much harder than it will ever hit more affluent communities. How do we make it attractive to teach in Taholah without sacrificing teacher quality?
I wish I knew.