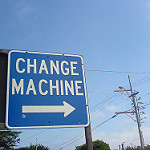 "I'm not vanilla.  I'm like the weird flavor that no one orders."  Meet Liz Loftus.  She's one of the eight 2017 Regional Teachers of the Year (ToY) from Washington.  Liz, Carol, Tim, Kendra, Alisa, Jose, John, and Camille are far from vanilla.  They are spunky, brilliant, and authentic.  And the best news–they elevate teaching and learning for our students in our state.  
These eight teachers are members of the Washington Teacher Advisory Council (WATAC). Along with a few Teacher of the Year Alumni (serving on the leadership team), these eight teachers are tasked with the responsibility of advocating for our students and our colleagues at a state wide level.  WATAC was the brainchild of Lyon Terry, the 2015 Washington State Teacher of the Year.  Lyon subscribes to an idea he heard at the National Teacher of the Year meeting: "Teachers should be at the table. Otherwise we're just on the menu."  With financial assistance from the Gates Foundation and administrative support from OSPI (Office of the Superintendent of Public Instruction) and CSTP, the goal of WATAC is to build advocacy and in doing so create additional partnerships with pro education organizations and extend opportunities for outreach.  
This work is important, meaningful, and necessary. In my conversations with pro education organizations I routinely hear that teacher voices are missing from education policy.  Lyon, as the  2016 State Teacher of the Year, asserts that this has been his experience, as well.  I don't like to think of my work as taking place "in the trenches" but what I've learned is that those of us who work with kids are oftentimes left out of the policy decisions that impact those kids.  For two days the new Teachers of the Year and the alumni leadership team worked together to discuss messaging, initiatives, and advocacy.  We learned about how to craft a platform and how best to share it.  Jeff Wehr, a fellow WATAC leader, encouraged us to reach out to our legislators via email.  In a moment of inspiration, I emailed my local senator to invite her into my classroom and within minutes she responded.  I look forward to coordinating her visit soon.  Jeff's presentation on how and when to reach out to legislators empowered me to make that contact.  My hope is that after my senator sees my students in action, she thinks of them and their needs when she's drafting or passing the legislation that impacts them.
This is why advocacy matters.  Those in the classroom inherently know the direct impact of policies made by those at the state and federal level.  Yet, because the work is humbling, oftentimes all encompassing and consuming we are likely to rightfully prioritize our time with our kids instead of our legislators.  We must find time to learn the necessary skills and mechanisms so that we can advocate for our kids.  
These teachers are far from vanilla.  They will be advocating for causes that are near and dear to their heart and their work.  They will be lifting up the voices of students in their care and without a doubt their stewardship as a Teacher of the Year will long echo in the halls of the Capitol Building in Olympia.