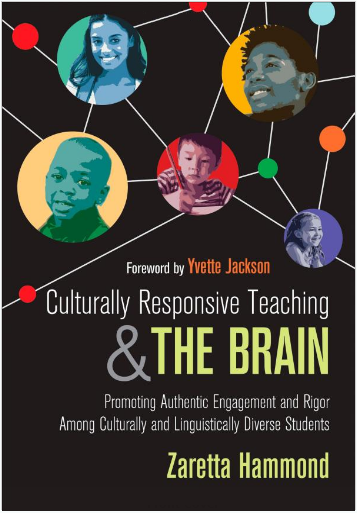 I should be reading the new budget and writing about that, I know. That's for another day.
Instead, I spent my Fourth of July family trip getting sunburned while reading Culturally Responsive Teaching and the Brain, by Zaretta Hammond. A much better choice, as I walked away with far less frustration than a close read of the budget likely would have offered me.
I have to admit that I rarely look forward to my summer "work reading." Typically, my reading is more of a skim, dipping in when something seems to connect to my work. This book, however, seemed to connect at every turn.
I read this book with a specific purpose: When I and the other thousand-or-so staff return for our August kickoff meetings, we're taking the idea of culturally responsive practice to scale. Specifically, the district Teaching and Learning team is working to design a common experience for the adults in our system to open us to more frank and meaningful conversations about race, inequity, privilege, and what culturally responsive practice should look like.
The challenge I'm facing, and which this book helped me with, is the reality of being a white male teaching is a largely white (generally affluent) community, and in this context trying to find the right way to communicate with my fellow white teachers that culturally responsive teaching isn't about using rap music to "connect with kids" or putting up posters of famous nonwhite scientists or changing John to Juan in a story problem and checking the "culturally responsive" box. Further, saying "but I'm not racist" and "I treat every student the same" isn't an excuse for not learning about and adopting culturally responsive practices (and I think such statements constitute a neon sign pointing at someone who probably needs more than anyone else to read this book).
At the August kickoff, that common experience will help establish that as a district our focus for the 2017-18 school year will be on "seeing and serving every child." Why? Simply put, the data over the last few years communicates it without question: We're serving some kids exceptionally well, others well enough, and some not well at all. The dividing line is crystal clear and let's just say the students on one side of the line are are more linguistically and culturally diverse than those on the other.
But our test scores are high and our graduation rates just fine!
That's good, of course. However, my assistant superintendent shared with me the field-trip analogy: if we take 100 kids on a field trip and only return with 93% of them, that's a problem. Yes, we can celebrate our successes, but we as responsible educators must make sure we do all we can for each child, not just most kids. Continue reading →