Lindsey Stevens, NBCT, is a regular blogger for Puget Sound ESD's CORElaborate blog , where this piece first appeared, and is republished here with the permission of both the Lindsey and Puget Sound ESD.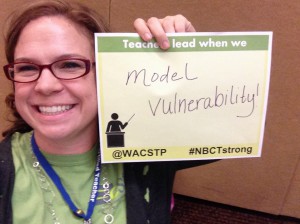 I just spent another amazing weekend at the National Board Certified Teacher Leadership Conference. This time it was at Skamania Lodge in Stevenson Washington and it was amazing and beautiful. The surroundings were wonderful but even more that the atmosphere, I always leave appreciating what I have gained from this inspiring gathering of professionals. The biggest takeaway I have form this weekend is that I need to continue to be vulnerable in my practice to really be a leader and to impact student learning.
At the conference we were greeted first by the fabulous Katie Taylor. Katie is the Director of Teacher Leadership and Learning at the Center for Strengthening the Teaching Profession (CSTP). If you have not checked out or been in contact with this wonderful organization you should find out what they are all about. At any rate Katie was helping us to think about the traits and qualities of teacher leaders in her opening session. During her presentation we were asked to complete the sentence, "Teachers lead when we…" I sat and thought about that for quite a bit before I could fill it in. What do I really do that is true inspiring leadership? It's not necessarily when I run a training, or when I plan a meeting. I realized that I truly do my best leading when I am vulnerable, when I make my practice, my trials and my tribulations transparent. This is really the only way to ask others to show me what they are doing and to be honest. I really think that vulnerability might just be the most important disposition for any teacher, especially teacher leaders to embrace.
Katie had us examine our leadership in relation to an article from Educational Leadership "Ten Roles for Teacher Leaders" by Cindy Harrison and Joellen Killion. In this article the authors point out the following ten roles for teacher leaders: resource provider, instructional specialist, curriculum specialist, classroom supporter, learning facilitator, mentor, school leader, data coach, catalyst for change and learner. In the activity we were identified how we were and could be any of these roles. Later I began to think about how these roles as teacher leader and my personal insight into vulnerability when hand-in-hand. Each of these roles take a certain level and different kind of vulnerability.