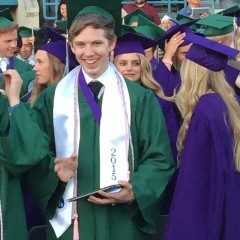 My son graduated from high school yesterday. I'm very proud of him, of course; he's a smart, talented kid with enormous potential and a music scholarship to the University of North Texas. He will go far.
But as I sat there in the bleachers, through two distinct weather patterns and 45-minute speeches by everyone associated with the school and its governance, a line spoken by one of the science teachers resonated with me. He said something to the effect that "many of your parents moved here so that you could go to this school."
That was true. My son's parents did move so that he could go to that school.
Seventeen years ago, when he was a baby, we were living elsewhere. It was a place with a lot of low-rent apartments, a lot of dead cars in front yards and a lot of loud, late-night domestic arguments. It was, however, very affordable, which is why we were there. There was an elementary school one block away, a middle school two blocks away and a high school right across the street. Most of the student population got free or reduced lunch, and almost half didn't speak English.
With a young family, we were faced with a choice. Stay in a house we could easily afford and send our kids to those schools, or move to a house we could barely afford and send our kids to other schools.
We moved.
We moved because we were playing the odds.  The area to which we moved is more affluent, which we figured meant a better chance of more two-parent families and more highly educated adults. Generally speaking, that translates to schools with more kids who come from homes where life is organized and stable and where education is emphasized.
We moved to a place where we hoped our kids would be surrounded by – and influenced by – more people with the capacity, resources and willingness to make education a priority. By moving to a "better neighborhood" we were hoping to bring our kids to a "better school." It was as selfish and as simple as that.
But sometimes when you play the odds you lose. And in fact, when I compared the performance data from the schools my kids would have attended with that of the schools they did attend, the schools with 75% free and reduced lunch came out significantly better than the schools in my far more affluent neighborhood. How's that for irony?
But instead of disappointment, I feel hope. Perhaps this small data point is a sign that we're starting to figure out and defeat the Achievement Gap. Perhaps we're starting to learn how to serve a high-needs population and give them the tools they need to chase – and catch – the American Dream.
So congratulations, Jack, and all the other kids who finished high school this month. You worked very hard over the last thirteen years.
But congratulations are also in order for the staff, parents and students at Discovery Elementary, Voyager Middle School and Mariner High School.
They probably worked even harder.