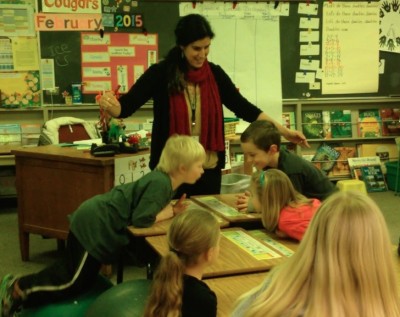 Guest blogger Tamar Krames is a NBCT in English as a New Language, a certified GLAD trainer, and an ELL instructional coach currently working with OSPI. Prior to her work at OSPI, Tamar worked as a district GLAD trainer and coach, taught ELL classes and co-taught sheltered ELL content classes. 
I recently sat at a table in a windowless conference room with a 3rd grade team of teachers. As you might expect, the table was covered with grade-level ELA curriculum materials, open laptops, and copies of Common Core Standards. Far less common were the open and highlighted English Language Proficiency Standards (ELP), Tier 2 vocabulary lists, and the laminated pictures piled on the table. Two teachers were pulling up engaging image files related to an upcoming unit on their personal tablets and one was searching her phone for affixes and Latin roots to support their vocabulary mini-lesson. While the driving force of the co-planning session was ELA content and standards, addressing the profound language needs of their dynamic students was inspired. This is it, I thought, this is what best practice for ELLs looks like. These teachers were clearly committed to their craft and to their multilingual students. But what made that collaborative moment so powerful was the shared focus of the whole building to best meet the needs of their particular student body. The teachers had common understanding of second language acquisition and ELP standards because a team of teachers had requested ELL training for the whole staff. The planning session had the full support of the building's leadership. Collaboration was not happening on the fly. It was intentional and deliberately supported.
As a traveling ELL instructional coach, I visit diverse school communities across WA State. The geographic context and demographic mix varies greatly. One school community is comprised of Spanish-speaking migrant families living in a small town surrounded by orchards and mountains. Another school has no clear ethnic majority, the students speaking 15 different languages in one urban classroom. Regardless of setting, I walk into my first building visits with one central question; What might best practice for ELLs look like in this unique school community? I ask this question to school leadership right off the bat.
More often than not, the answer to this question disappoints me. Consistently the first answer points to a single focal point. " We are so lucky to have a wonderful ELL teacher named A" or " We just purchased this amazing online language program called B", or " our ELL Para has attended a training called C!". Clearly this singular view of best practice begs the question – What happens when A, B, or C leaves the building?
As far as I can tell, there is no right answer to this question of best practice for ELLs. The learning needs of multilingual students are complex and always changing. A linguistics professor once said to my class, " if you remember one thing about second language acquisition, remember this – language acquisition is without fail developmental". For teachers this means that the ELLs support structures (scaffolding) must change and flex as their students' English proficiency and content mastery develops. On top of that, the rate at which ELLs develop proficiency and mastery varies drastically in relation to a seemingly endless set of factors (literacy in first language, status of first language in the dominant culture, educational background, poverty, learning disabilities, access to quality instruction…)
If you need further proof of the complex and ever-changing learning needs of ELLs, try navigating though the English Language Proficiency (ELP) standards (An amazingly thorough matrix that outlines language development by grade level in relation to common core standards). Best practice for ELLs is truly a moving target as students trudge through the stages of second language development and academic literacy at their own unique pace.
More than a "right" answer to this question of best practice for ELLs, what I hope to hear is a plural answer that points to shared ownership instead of pointing towards one program or person. Whatever the site-based vision for ELL support entails, it must involve intentional and ongoing collaborative structures. Collaborative structure is different from collaboration as it is proactive and systematic – it implies a deeper commitment than amazing content teacher, X, that collaborates with one-of-a-kind ELL specialist, Y. Intentional collaborative structures answer questions such as, How and when do counselors, administrators, content teachers and ELL specialists work together to best schedule ELLs according to their developing proficiency level? How and when do content teachers investigate and integrate ELP standards into their grade-level planning? If the ELL specialist is 'pushing in' to core instruction – how and when do teachers learn about, experiment with, and reflect on co-teaching models?
Ultimately, the goal of any ELL program model is to expedite the academic English language/ literacy development of multilingual students so that they can meet grade-level standards and breeze through any gatekeepers they encounter on their path towards earning a diploma. Supporting ELLs through the K-12 system is not about finding the right teacher, program, or PD session. It is about shared ownership and commitment to refining best-practice, uniquely designed for each community, together.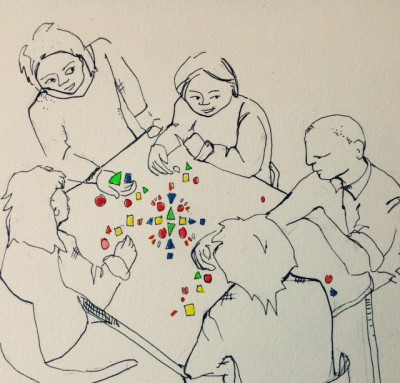 The above drawing is an original piece done by Tamar Krames.