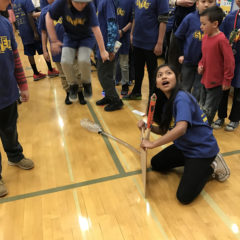 For some reason, we had Teachers' Appreciation Day last week instead of this week. More proof, apparently, that Lynnwood, Washington is ahead of the curve. It was a low-key affair, with a free lunch provided by the Parent Club and a few gifts from some of my students.
But for me, the appreciation came a week earlier. That's when we had our district-wide STEM Expo. A STEM Expo is essentially a science fair open to fourth through twelfth graders, and it's completely voluntary on the part of teachers and students. I decided to have my students participate, mostly because I like teaching science, technology, engineering and math.
We did a project involving angles. The students built stomp rockets and found out which angle was best in terms of sending a rocket the greatest distance. (45 degrees won in a decisive victory over 30 degrees and 60 degrees, in case you're interested.)
The kids had fun building and flying their rockets. They also enjoyed creating their display boards, especially the group that smuggled glitter into my classroom and didn't quite get all of it onto their project. Grr. They learned a lot about angles, predictions, writing, teamwork, and how scientists control variables during experiments.
And then came the STEM Expo. For context, you need to know that my school serves a fairly high-needs population. Our parents work hard, many in the service industries, and many in multiple jobs. They're busy. We usually get about 30-40% turnout for evening events, including Curriculum Night. Curriculum Night, the night when you first meet the person with whom your child will spend 35 hours per week for the next ten months.
For STEM Expo, I had 24 of my 26 students show up. It was unprecedented. I put in a lot of extra effort for STEM Expo and almost every family responded by taking their kid to an evening event to share and celebrate their learning.
They didn't do it for me, of course; they did it for their child. Nonetheless, they were supporting what I do for their kids in the classroom, so I took it personally.
I felt appreciated.