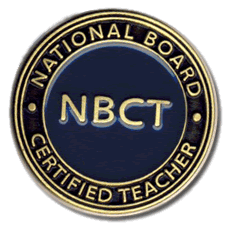 By Tom
Earlier this month the National Board for Professional Teaching Standards announced a new process for NBCTs to renew their certification. For the last decade or so, renewal consisted of submitting a Profile of Professional Growth (PPG), a four-part portfolio in which NBCTs provide evidence that they've continued to grow as a teacher in accordance with the National Board standards.
Beginning in 2017, new NBCTs will have to renew their certification through a process called Maintenance of Certification (MOC). Those of us who have already certified will continue to renew using the PPG process, at least through the next cycle. The complete rollout chart is available on the National Board's website. Beware, though; it's complicated.
The MOC is a very different process than the one with which we've become familiar.
First of all, it happens every five years, instead of ten. According to the National Board, this change better aligns with most states, which require teachers to renew their teaching certificates every five years. This lines up with the National Board's goal of making NB Certification the norm across the country. It also better aligns with other professions, such as law and medicine, which require more frequent recertification.
The five-year turnover also makes renewing more affordable, since the MOC costs roughly half the price of the PPG, effectively spreading the cost for renewal over two payments. The National Board is trying to remove barriers that prevent teachers from pursuing certification, and cost is a big one.
But the biggest change involves the process itself. The current PPG will be phased out, with the MOC essentially consisting of completing one of the four new components. As most of you know, National Board Certification is undergoing a major change. Gone are the four entries and the Assessment Center Exercises. The process now consists of four components: Component 1 replaces the Assessment Center Exercises, except that instead of six exercises, there are now three, accompanied by a 45-question multiple-choice test. Component 2 is essentially what used to be Entry 1; a written commentary describing, analyzing and reflecting on a sample of student work. Component 3, still in the field test stage, entails submitting two videos, along with two separate written commentaries. Component 4 is still in the works; it's expected to be something along the lines of the old Entry 4. According to the National Board, the first MOC will focus on content knowledge (Think Component 1) and the second will focus on classroom practice; perhaps something like Component 2.
What hasn't changed is what's at the core of both processes: the standards. The PPG process and the MOC process, not to mention initial certification, all require that the candidate demonstrate they've met the standards for their certificate.
Reaction so far, from folks I've talked to, has mostly focused on the shorter time frame, and it's been fairly negative. A major benefit of National Board Certification has always been the idea that after certification you don't have to worry about it for eight to ten years. The National Board is correct in that most states, like mine, require documentation every five years that a teacher is continuing to take classes and improving their practice. And while I don't personally know any NBCTs who rest on their laurels for ten years, I also don't know any non-NBCTs who aren't continuously learning and growing. The process of renewing a teaching certificate is mostly a red-tape exercise, so having a NB Certificate has saved a lot of us a lot of wasted time. The new five-year renewal process, however, might actually increase the amount of time spent keeping a certificate current. A teacher's certificate might expire, for example, in 2019, two years after she achieves NB Certification. If that were the case, she would have to take care of her teaching certificate paperwork in 2019, go through her first MOC in 2021, renew her certification again in 2024, do her next MOC in 2026, and so on. That's a hassle, and it's why a lot of current candidates are alarmed. I'm concerned that it might drive current candidates away and keep potential candidates from jumping in.
Another complaint I've heard is that the first MOC will focus primarily on content and pedagogical knowledge, instead of classroom practice. The emphasis of the PPG process is professional development applied to student learning, which seems like a good place to put an emphasis. Focusing on content or pedagogical knowledge seems to belie what NB Certification is all about. Or at least what it has traditionally been all about. The recent addition of the 45-question multiple-choice test as part of Component 1 – and the fact that it counts for 20% of a candidate's total score – seems to signal a shift in emphasis  by the National Board toward knowledge and away from classroom practice. Knowledge is important, but when you look at the entire set of standards to which an NBCT is held, it's starting to look like the content standards are being overemphasized.
As you can see, my reaction to this change is somewhat mixed. But I encourage you to take a look at the MOC process and have a discussion with your fellow NBCTs or potential candidates. If you have strong feelings, let the National Board know. This is, after all, OUR National Board, I know for a fact that they're willing to listen to us.