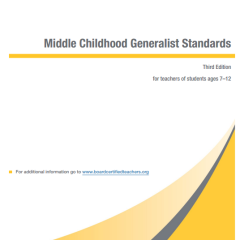 I recently celebrated my 30th wedding anniversary, and as it happened, my wife and I attended a wedding three days later. While watching the wedding my thoughts naturally turned to the differences between a wedding and a marriage. It's one thing to promise everything to your spouse; it's another thing altogether to renew that promise year in and year out.
Those same feelings returned the following week while working with a massive group of National Board candidates. I was a trainer at Jump Start, WEA's pre-candidacy program for teachers pursuing National Board certification.
One of the many activities through which we lead our candidates is deceptively simple. We have them read their standards. The National Board for Professional Teaching Standards is, after all, (as the name implies) grounded in standards. In fact, the NB spent the first five years of its life focused on writing those standards – 25 sets in all – so that teachers would have something rigorous to which to aspire.
The process of certification is essentially providing evidence that one's practice aligns with those standards. Therefore it's incumbent upon each candidate to thoroughly understand those standards.
And because those standards aren't going to read themselves, we make them read their standards, closely and thoroughly.
But here's the thing: It's impossible to read a set of standards and completely retain them. After all, a set of National Board standards is roughly the size of a thick magazine. With no ads or pictures.
So what I try to do each summer is re-read my standards. Front to back. And I usually do. It's not what I'd call great literature, in the order of Faulkner, Twain or even Richard Brautigan, but it's not bad. In fact, you might even call it inspirational.
So I'm challenging you to read your standards. Set aside a few hours before school gets crazy, go online, download them and go for it. You'll be glad you did.
Think of it as a renewal of vows. To your profession and to your students.