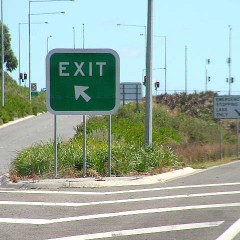 By Tom
Today was the day when "The Cart" came rolling in. That's when testing becomes real in my school. The cart full of Chromebooks gets wheeled into your room; the day before your student start with the SBAC training test, and a week before they take the real thing. And as far as I know, every one of my fourth graders will be taking the test. No one's opting out.
And I'm glad.
I have nothing against the opt-out people. In fact, I admire their passion and the courage of their convictions. Probably because I know in my heart that I'm far too subordinate and way too pragmatic (and maybe a little too Catholic) to follow any kind of conviction to the extent that these parents follow theirs. These people fervently believe that testing has gone too far and they've chosen to take a stand here and now. And I admire that.
But I'm still glad that all my students are taking the SBA. You see, for the first time in the 31 years that I've been a teacher, I finally feel like I know exactly what I'm supposed to teach my students. I have clear standards that are well-articulated and (for the most part) make sense. What's more, I know that these same standards are being taught in fourth grade classrooms all over the country. I also know that the test was designed specifically to measure my students' progress toward those standards. And again, the same test will be taken by other fourth graders all over the country.
So what?
Well, I believe in standards. I believe every profession that wants to be taken seriously needs to adopt and adhere to a set of standards. When I call a plumber, I want to know that she's been trained to a certain standard, performs at a certain standard and uses materials that meet a certain standard.
And when I send my kids to school, I want to know that their teachers were trained to a certain standard, perform to a certain standard and teach them to a certain standard. I don't want to guess whether or not they'll be ready for college when they finish.
And like it or not, standards require measurements. If a one-inch PVC pipe has to withstand a pressure 450 PSI, that means some poor soul has to grab some pipe every now and then and apply 450 pounds of pressure per square inch on that pipe to see whether it breaks or not. That's just how it is.
School's the same way. I'm supposed to teach my students how to make equivalent fractions. So somewhere along the line, I need to check to see if they can actually do it. If they can, great. If not, then that's something I need to work on; and it's also something their fifth grade teachers need to work on. I have no problem with that, and I actually feel comfortable knowing the same degree of supervision and accountability is happening with the third grade teachers at my school; I can plan for next year knowing where to begin.
You may ask, "Well, why can't every teacher just test their own kids in the context of their own classroom? Why do we need to make kids take an expensive standardized test?" That's a fair question (or two), but most of us are well aware of things like validity and reliability. Me testing my kids may look entirely different from even the fourth grade teacher next door. Standardized testing is a good way to simply check whether or not students from different classrooms, schools, or states really know how to do something under the same conditions.
Besides that, I'm curious! I want to see how my students can perform on the test. I don't waste time on "Test Prep." I do have my student take the training tests and the practice tests so they're comfortable with the machinery, but since I've focused on the CCSS all year, I'm not concerned that they aren't ready.
And I'm glad none of them are opting out.