About twenty years ago a policeman came into my classroom to talk to my students about his job. He started out with great enthusiasm, "How many of you want to be a cop?"
Not a single hand went up. Two or three kids even laughed.
Stricken, he said, "That's not funny—in most classes a lot of kids want to be a cop. Ok, then tell me what you want to be when you grow up."
Hands up all over the room. He listened as kids told him a wide variety of ideas from astronaut to doctor (it wasn't just "doctor," either, it was a particular specialty all picked out in fifth grade) to entomologist.
"Ento-what?" he exclaimed and then turned to me. "This class isn't normal!"
Apparently no one had warned him he was coming to a Highly Capable classroom.
Once he left I did talk to my class about being polite with guest speakers (which is an important life lesson).
Then I asked them to write a piece for me. "Tell me the job you want and give me three reasons developed in detail for why you want that job."
They immediately turned the tables on me. "So why do you want to be a teacher?" "Yeah, what's so great about teaching?" "What three reasons do you have?"
"I know—I know—it's because of all the vacations!"
I got them quiet and said, "Those are legitimate questions. If I ask you why you want to have a job one day, it makes sense that you would want to know why I want to have the job I have now. So I'll give you three reasons. And they don't have anything to do with June, July, and August."
All these years later, my reasons are still the same.
First off, teaching came naturally to me. From when I was in junior high or high school, if I was swimming at the pool, I would end up teaching some kid how to swim or how to dive off the side into the deep end. If I was drawing pictures in the park, I would end up teaching a cluster of kids how to draw. No matter where I was or what I was doing, I ended up teaching someone something. I figured I might as well be paid for it.
Second, I'm good at it. When I taught kids horseback riding at summer camps back in high school, I told stories about medieval knights carrying their spears in their right hands. "See how it makes sense to mount on the left? See why we hold our reins in the left hand? Cowboys don't throw a spear with the right hand, but they do throw a rope with their right hand." Then we would act out mounting the horse while holding something in the right hand.
To this day, I find that telling stories and acting out scenarios helps kids remember information.
I have another advantage as a teacher. Does anyone remember Gregorc's Learning Styles? I took a test a long time ago to determine my teaching style according to Gregorc. I found that, operating in my normal mode, I was pretty strongly Concrete-Sequential. But the minute I got frustrated, I flipped into Abstract-Random mode, in his parlance.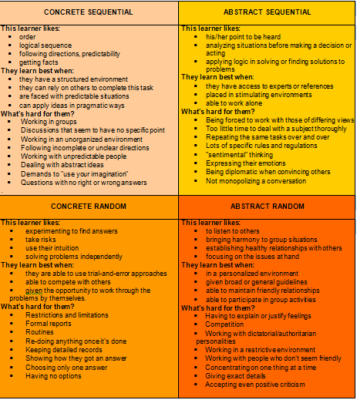 How does that help my teaching? As long as everything is going smoothly, I generally continue in a Concrete-Sequential style. But if students don't understand a concept, if they start asking a lot of questions, if they look confused, then I get frustrated. I stop teaching the way I've been teaching—the way that hasn't been working. I say, "Ok, let's look at it this way." I come up with a sideways, out-of-the-box way of explaining the concept. A more Abstract-Random way. (Something that's not in the script of a Direct Instruction lesson.)
I've had students say, "Now it makes sense." (I've also heard the criticism, "Well, why didn't you say it that way the first time?")
My third reason I want to be a teacher?
I love it when kids get it. Nearly forty years of doing this job, and if some kid suddenly grasps an idea they've been struggling with, I do a victory dance right there with them. I'm pumped. I'm excited. I'm vindicated!
This is the coolest part of my job! I get to watch the light bulbs go on.
Right here, by the way, is why I set impossibly high standards for my kids. So when they meet those standards, that victory dance is SO incredibly sweet.
Twenty years ago I gave my kids those three reasons, and they agreed, they were legitimate reasons to want to be a teacher.
I still think so!