The year I graduated from high school, 1994, marked the introduction of the phrase "failing public schools." This phrase grabbed hold of society and took off, leading to twenty-plus years of rhetoric on "bad" teachers, union thugs who protect "bad" teachers, and schools which are not meeting the needs of our children. This led to the standardization of classrooms, curriculum, and teaching via governmental regulations. Today, in 2017, we still hear this phrase, and continue to feel the destructive consequences left in its wake, most importantly the increasing lack of respect for educators.
Most recently, over the past several years and particularly with this new federal administration, we've seen a huge push for privatization and independent charter schools. The message is that public schools are failing our children and that private and charter schools can provide students with more attention and individual instruction. As an educator and a parent with children in both public and charter schools, I can honestly say that public schools have the ability to offer much more than charter schools, provide more diverse learning opportunities, and are far better at differentiating instruction. Imagine for a moment if all schools had to fight for local funding, via fundraisers and other money-making endeavors. Which schools would have the most money? Which schools would be able to offer the most opportunities? Which schools would your child be able to attend? Which children and which zip codes would be left behind?
The key to changing the rhetoric on public schools is to take charge of the messaging. For far too long, private corporations, government officials, and the media, who by and large have no experience in education, have controlled what the public sees and hears about public schools, and therefore, control the mindset of the masses. It is time for us educators to take that influence back and teach our communities how great our public schools really are, and that with their support, they could be even better.
Over the past two years I have worked to communicate with the state legislators in both the district in which I work, and also the district in which I live. I would periodically contact them via email and phone, and would invite them to my classroom. Repeatedly, I did not hear back. During that time, I puzzled over this problem. How could I be a better messenger and get these decision-makers into my school and into my classroom to actually see and experience what we do? It was at a National Board Hill Day in February 2017, that my ideas finally came together. As I visited many senators and representatives throughout the day, I realized that much of what they hear focuses on what public schools lack, not on what makes us succeed. That's when I decided to start a letter writing campaign.
After some planning, I sent my first newsletter – "April Update – The Great Things Happening in Our Public Schools." In it I outlined some incredible activities and experiences educators in my school and in my district were providing their students. I was specific. I told stories. I painted a picture of the everyday in our schools and I immediately got a response. Mostly, our state leaders thanked me for the update and encouraged me to continue to reach out. It was much more than I'd received in two whole years. I had begun to build real relationships with the individuals directly responsible for creating laws for funding our schools.
It was after my second update in May that there was real movement. Two legislators, Republican Senator Baumgartner, and Republican Representative Volz, agreed to come to my classroom. We immediately set up dates and times for June, as they were between special sessions. With it being such a contentious time, as legislators were working to meet the demands of the McLeary decision, I was shocked and so excited. My focus on success was working.
Both visits happened within a week of one another and at a time when the testing season was coming to a close and the school year was wrapping up, but things had not slowed down in my classroom. Both legislators had the opportunity to meet my diverse student group (I teach Newcomer English Language Learners), to learn about what we do in our classroom, and to help my students, new to our nation and our school system, practice their math skills. Watching the interactions and answering the questions that followed was exhilarating. Both Senator Baumgartner and Representative Volz asked insightful questions and showed genuine interest in my class and in my students. Both agreed to visit again in the fall when they would have more time. Since then, I have had commitments from both Senator Billig and Representative Riccelli to also visit in the fall and Representative Volz and I are collaborating on bringing my class over to Olympia for a tour and to meet with the House Education Committee.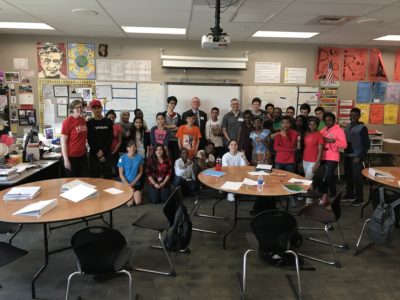 It's a simple thing. Each month I gather stories about what's awesome about our schools and send an email to my elected officials. It's not hard. Our schools are great and I have a lot to share about the good work we're doing! By focusing on our success, it is easy to convince decision-makers to continue and expand their support for our public schools. We live education every day. We must control the messages our communities receive about what we do and how much we care about their children.
Join me in this effort. Write up a story about your classroom or work with your colleagues. Find out who your legislators are that represent where you live and where you work. Push send and see what happens.
This will make all the difference.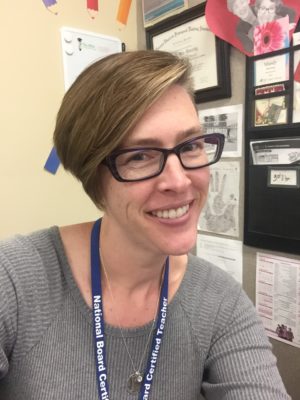 Mandy Manning experiences learning with English language learners in the Newcomer Center at Joel E. Ferris High School in Spokane, Washington. Nearing 20 years in education and as a teacher-leader, she endeavors to spread Cultural Competency to students, educators, administrators, and the community at large. She is a National Board Certified Teacher in English as a new language and the 2018 ESD 101 Regional Teacher of the Year.